Congratulations.... You're getting Married!
Whether your are the Bride and Groom, Parents of the special couple, attendants, family or invited guests, it is a time of Joy and Celebration. Rowe Pottery is here for all the special details.
There are so many details that go into hosting your perfect wedding, bridal shower, bachelorette party and more.... and Rowe Pottery would love to be a part of the unique details that make your event one of a kind. Our handcrafted decor and tabletop, custom and personalized crocks and artisan gifts add that "special touch" that shares your story and makes your personality shine.
Hand thrown stoneware vases for creative table decor

Artisan dinnerware and glassware for stunning food service

Personalize your attendant gifts with handthrown cocktail glasses, monogramed candle crocks, and boutique accessories

Add a custom crock to your gift table for card collection that features your wedding date and venue, an heirloom keepsake after your big day

Timeless, handcrafted dinnerware, serveware and home decor for your bridal registry



Why Rowe Pottery
Artisan crafted, small batch pottery
Handcrafted in Cambridge WI... Made in the USA
Small minimums
Locally-sourced materials
Functional pottery
All pottery is microwave, oven, and dishwasher safe
Bring your unique style and personality to life with Rowe Pottery. Interested in learning more? Give us a call at 800.356.7687 or send us an email at
sales@rowepottery.com for more details and pricing information.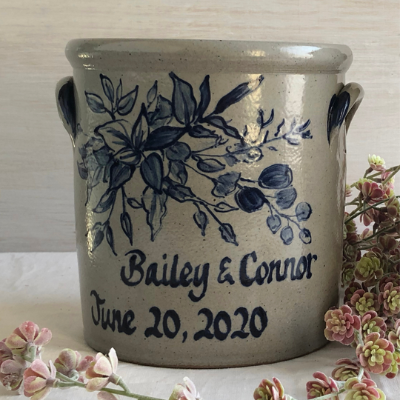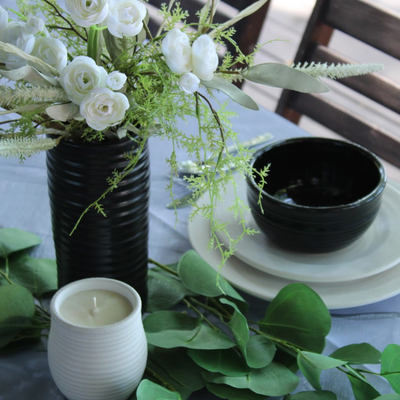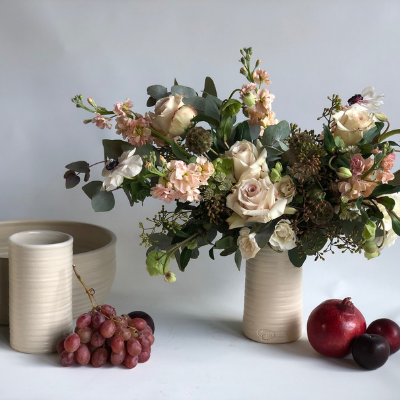 NEW PARTNERSHIP....Rowe Pottery has teamed up with Lakeview Designs Boutique Event Rentals!
Lakeview Design Boutique Event Rentals is a fresh and innovative boutique style rental company offering artisan table top and handcrafted decor as well as luxe glassware and quality linens. Our signature collection of artisan boutique rentals is timeless and classic and will personalize your wedding day experience. Events are defined by the personal details you put into them, we are excited to bring this specialized experience to you through boutique rentals. Contact us at sales@rowepottery.com to get your rental inspiration guide and inventory catalog
Currently offering rentals in the greater Madison WI area, contact us to discuss pick up for events outside of our service area
Handcrafted Rowe Pottery dinnerware for an artisan event tabletop
Handcrafted Vases for beautiful centerpieces
View our partnerships with other artisan makers for glassware and decor

Advantages Styling with Rowe Pottery
Unique handcrafted style for your tabletop and decor.
Your love of Rowe Pottery can be brought to your wedding style without the high cost of purchasing each piece
We take care of the details... from design ideas to delivery
How can Rowe Pottery be part of your special event
Create one of a kind attendant gifts by personalizing a mug or candle crock
Enjoy our Mr and Mrs dated coffee mugs as you prep for your big day
Customize a crock for wedding day decor or as a special gift for the bride and groom
Register for Rowe Pottery to start your kitchen off with quality handcrafted pieces
If you are interested in placing a custom order please visit us at https://www.rowepottery.com/custom-personalized.html or give us a call at 800.356.7687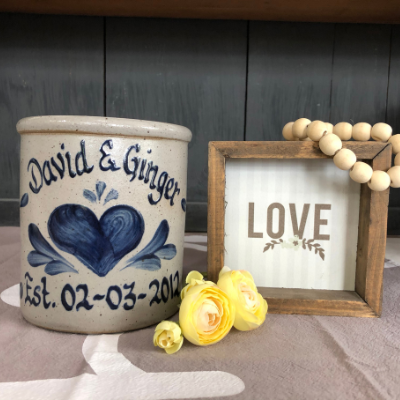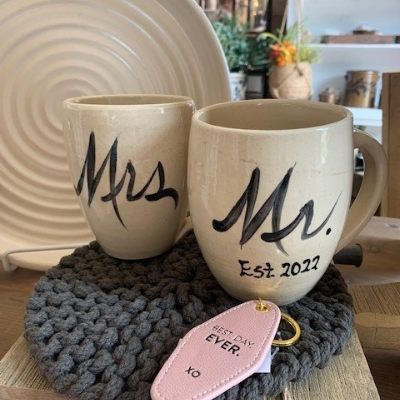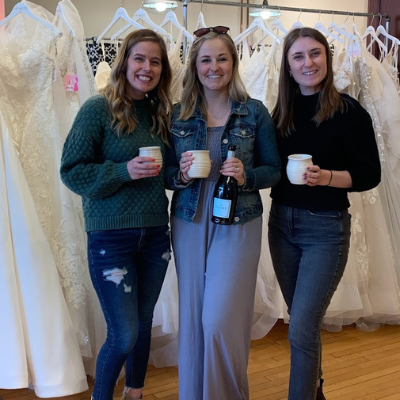 Wedding Registry
From our hands, to your Home
Here at Rowe Pottery, we have been handcrafting high-quality pottery since 1975 in Cambridge, Wisconsin. We celebrate the handmade process, the materials we use and the people behind the products we create.
Our Artisan-Made pottery is a great way to start your kitchen and home decor style. From dinnerware to serveware, bakeware and home decor each piece has a unique style all it's own. All Rowe Pottery is made to be used, and is dishwasher, oven and microwave safe. Our customers say once you have baked in Rowe Pottery you will never use anything else, from it's naturally non stick surface to it's ability to hold heat evenly for a perfect bake everytime. Choose your color scheme or mix and match for a collection as unique as you. Find your Registry HERE... Note the Bride or Groom in the comment section of your order and we will check it off the list and hand package your gift and ship it on its way!
How do you begin your wedding registry?
Contact us to build your "Wish List", we will send you a wish list to complete, you can do this either in person at our store located at 110 East Main St Cambridge WI or via a virtual appointment. Would you prefer to browse our collection online, simply choose your favorite items and add them to the wish list we email to you. We will compile your Wish List as a PDF that your guests can find under our "wedding tab". Simply have them reference your wedding name when they place their online order and we will remove the item from your wish list.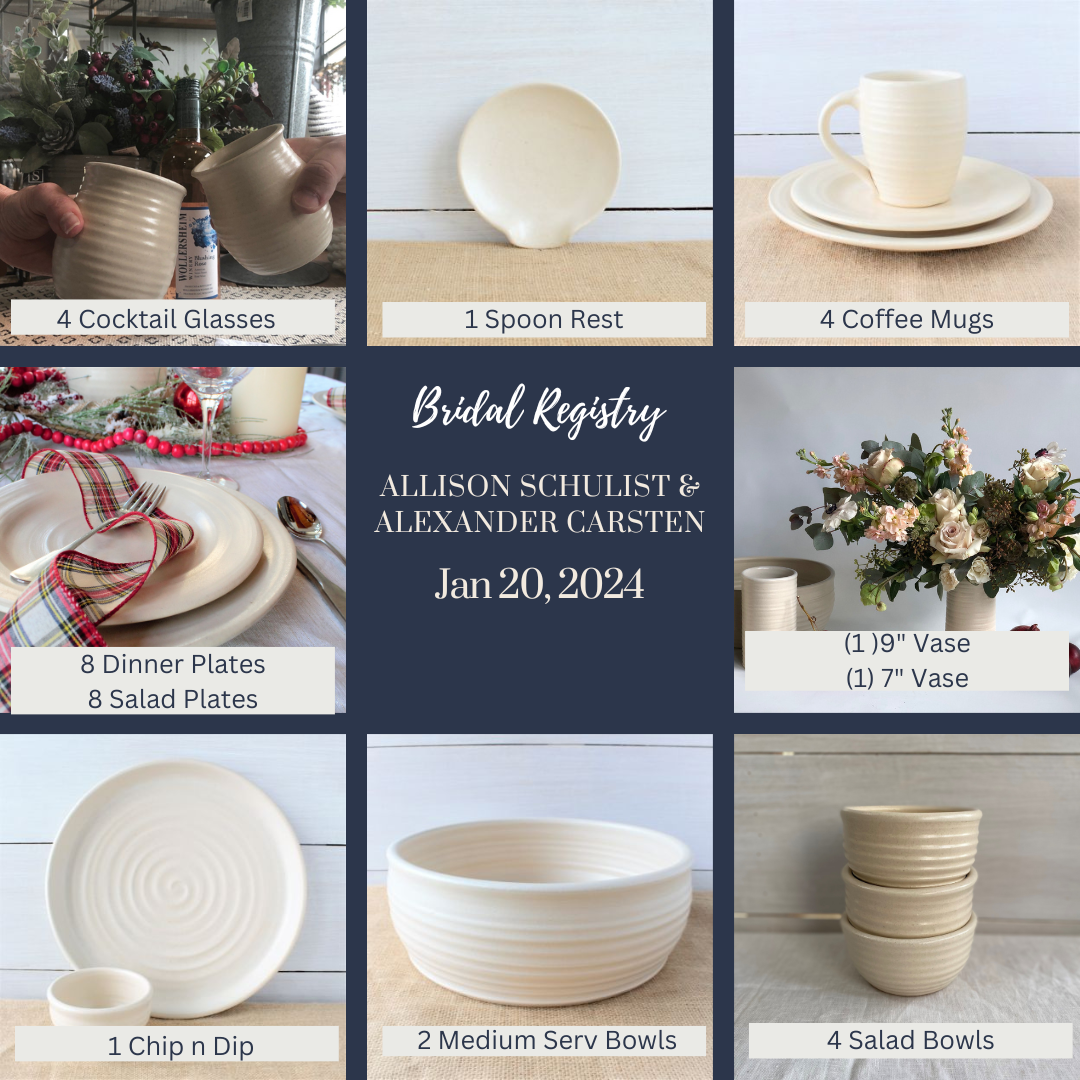 Give us a call at 800.356.7687 or send us an email at sales@rowepottery.com to get more details and begin your wedding Wishlist!