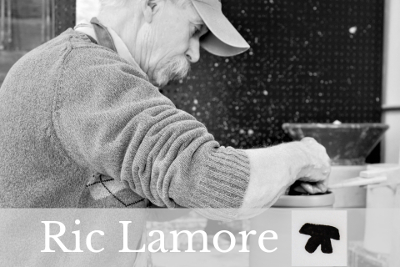 Ric Lamore - Master Potter
For Ric, there was no other way of life but through the arts. Drawing consumed most of his time as a child and he pursued his love of art by attending Framingham State College and received his BA in Art Education. He began his career as a teacher at the Worcester Crafts Center where he would inspire other young people to have a passion for art. He left teaching to work for many private potters in the New England area for over 15 years. He moved to Wisconsin in the early '80s and began his career as a production potter for Rowe Pottery in 1981. Ric has over 30 years of production pottery experience but his love for his craft continues after hours as well as he owns his own studio creating specialty high-fired functional stoneware.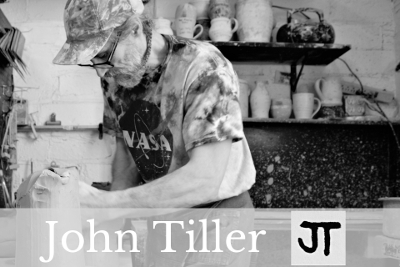 John Tiller - Master Potter
John grew up in Madison, Wisconsin, just a 'hop and a skip' from Cambridge. John found his love for pottery at an early age when he took a ceramics class in high school. The rest has been a long history of artisanship! Before joining the Rowe Pottery Team in 1997, John created for several other pottery studios making him an expert potter. He not only loves to throw "old-time" pottery such as crocks and jugs on the potter's wheel but enjoys the historical reference that comes with each piece. John is the lead designer of our annual Santa. John currently resides in Wisconsin's Driftless Region with his wife, Robyn, where he keeps honey bees, chickens and grows a big garden that specializes in shiitake mushrooms.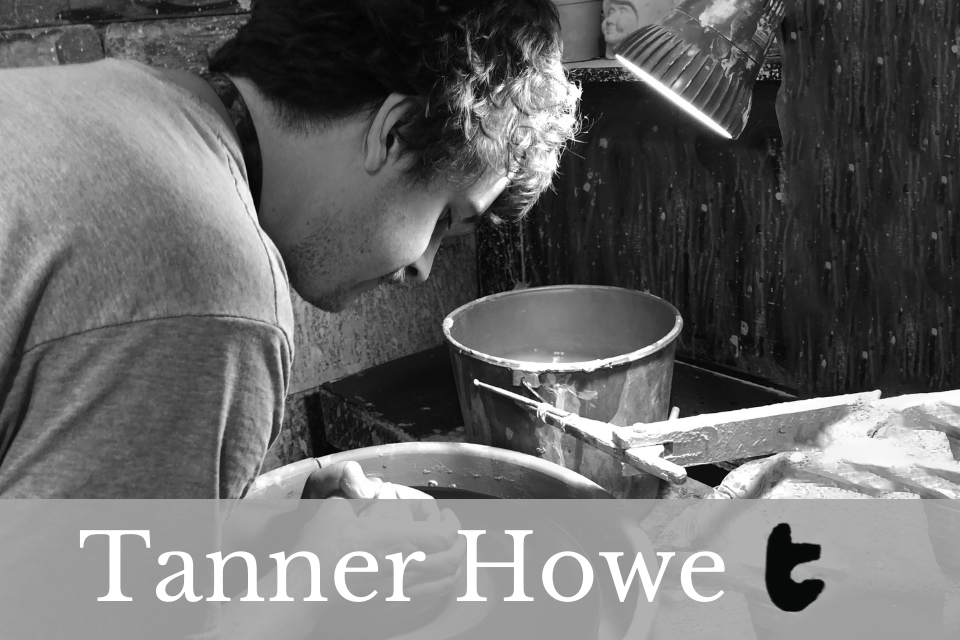 Tanner Howe - Studio Potter | Production Lead
Tanner's passion for ceramics was fueled by many hours in his high school art room in Walworth, Wisconsin. Tanner balances wheel time with lead production work in the Rowe Pottery Studio and has his hands busy developing new projects. "I enjoy the freedom to try something new," he says. "I get to exercise creativity every day, but I really enjoy coming up with something completely new." Tanner spends free time playing his acoustic guitar and enjoying the outdoors and has directed passenger tours in New Zealand and Alaska.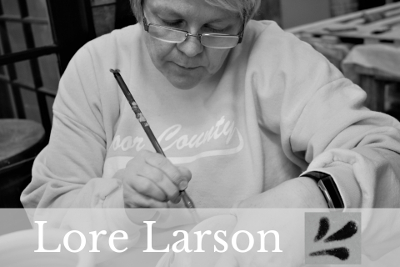 Lore Larson - Visual Artist | Decorator
Lore is a Cambridge native who grew up around Rowe Pottery. A self-taught design artist, Lore is our sole visual artist and decorator today. Before joining the Rowe Pottery team in 1995, she began her decorating career with Rockdale Union Stoneware. Lore especially loves working on custom house designs and wedding invitation crocks. You'll find her artist's mark near the Rowe Pottery logo on the pieces she decorates.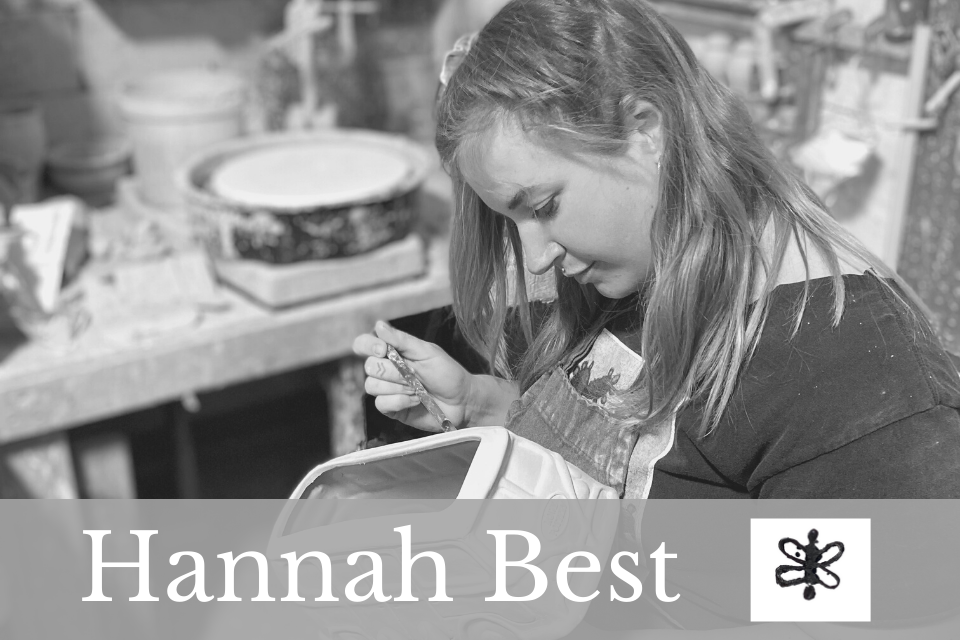 Hannah Best - Ceramics Artist | Studio Assistant
Hannah's hands have been in clay since elementary school and she especially enjoys the feel of salt clay. With a BFA in ceramics and sculpture from UW-Madison, she appreciates mentors who inspire and challenge her to push the limits of her skills. She says through her education and experience she's learned that having time and space in the outdoors is where her creativity blossoms best. From her adventures living off the land on an organic farm in California, to floral design to the becoming lead artist on some new creations here at Rowe Pottery, Hannah's journey comes through in her work. "I love items with decorative and functional value," she says. "I feel lucky to have my hands in various parts of the creative process."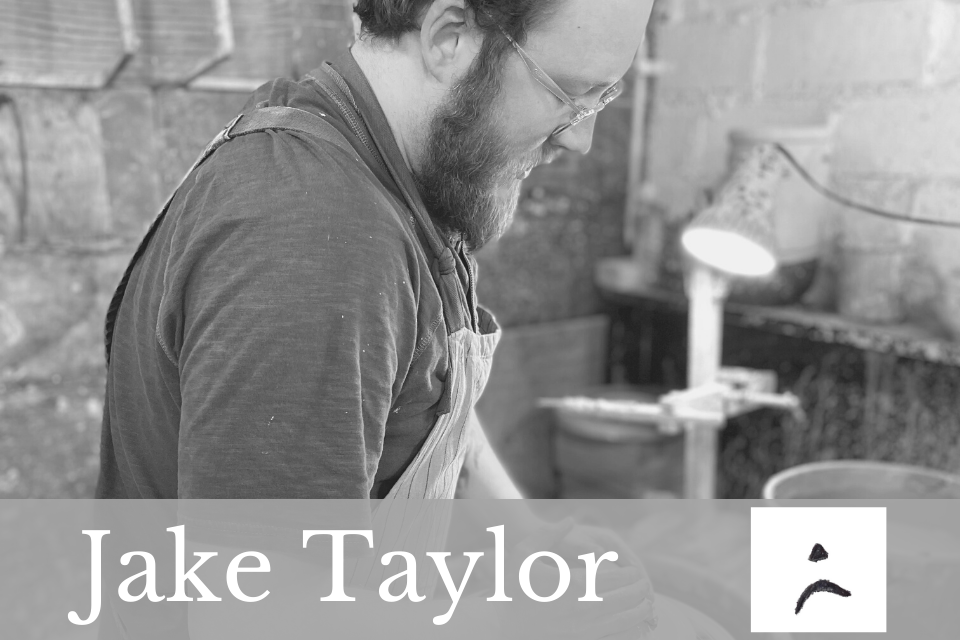 Jake Taylor - Studio Potter
For Jake, pottery has become an unexpected passion. As a multi-sport competitive athlete, a friend introduced him to the ceramics studio in high school where an invested teacher and culture of acceptance inspired him to explore his talents at the wheel, leading to his BFA in ceramics at UW-Eau Claire. Since Jake enjoys competition, challenging himself creatively comes naturally. "I enjoy pushing myself," he says. "Every time you throw a ball of clay down, anything can happen." Jake enjoys the balance of foundational technique and creativity that Rowe Pottery's daily production studio encourages. Jake has travelled the world from Italy and Greece to Africa. When he's not creating at the potter's wheel, he loves to spend time fishing and honing his photography skills.
Our Studio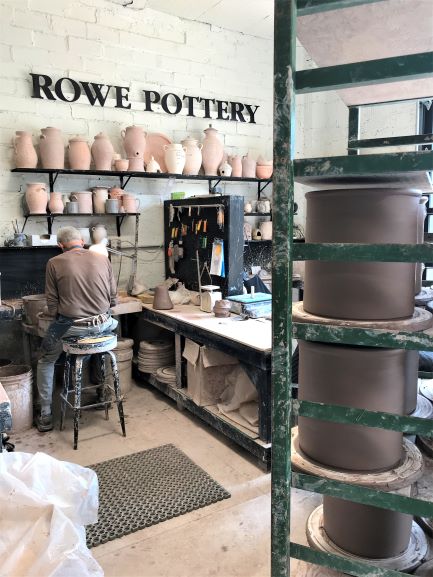 We've been designing, creating and selling handcrafted pottery of timeless design and uncompromising quality in Cambridge, Wisconsin since 1975. What began as a small scale pottery store has evolved into a pure artisan studio and manufacturing facility handcrafting functional pottery for the home.
At Rowe Pottery we celebrate the handmade process, the materials we use and the artisans behind the products we create. Each piece of pottery begins as a raw lump of clay that is transformed into a mug, platter, dinner plate or lamp by an artisan. Each piece of greenware is ready for firing after it has dried, been glazed or hand decorated.
In the back room of the Rowe Pottery Studios stands a kiln the size of a small garage. Carts known as cars are stacked high with the greenware and are ready for the final 12-hour firing. A fully loaded car is pulled into the kiln where the temperature is slowly raised to drive out water and burn impurities from the clay. The kiln is then elevated to over 2000 degrees and gently moved into reduction. After cooling, the kiln doors are opened. There is always an element of surprise as each piece is taken out of the kiln. The firing process reveals the glaze artistry and the decorator's brush strokes as well as the touch of the potter's hands.
Owner, Bev Semmann, loves being a part of creating things that are of value to Rowe's customers and that they use in their everyday lives. "As a collector of Rowe Pottery from a young age, I always am looking for the next great piece to keep things fresh and modern, while respecting tradition," she says. "I am honored to be a part of growing this well established company and I'm enthusiastic about our future."
Rowe Pottery From our Hands…to your Home.