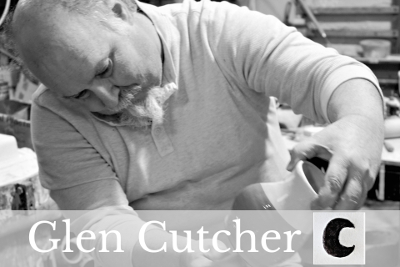 Glen Cutcher - Product Development
Glen Cutcher is originally from Plainwell, Michigan. He found pottery when he took a class while a student at Western Michigan in his 3rd or 4th year of college and fell in love with the art. After this class, Glen began his journey to receive his art degree having him attend college for an additional six years! Nine years later, Glen received his BS in Art which he jokes "took him forever." Glen joined the Rowe Pottery team here in Cambridge in 1984. Married for 42 years with three children and seven grandchildren, Glen continues his own ceramics work within his studio also located in Cambridge. Glen has a deep interest in all aspects of ceramics making him a phenomenal Product Developer for Rowe.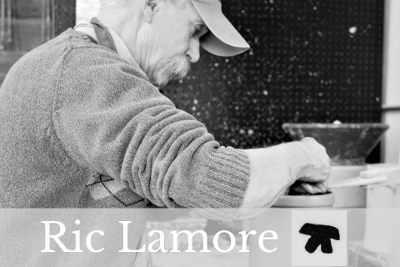 Ric Lamore - Potter
For Ric, there was no other way of life but through the arts. Drawing consumed most of his time as a child and he purused his love of art by attending Framingham State College and received his BA in Art Education. He began his career as a teacher at the Worcester Crafts Center where he would inspire other young people to have a passion for art. He left teaching to work for many private potters in the New England area for over 15 years. He moved to Wisconsin in the early 80's and began his career as a production potter for Rowe Pottery in 1981. Ric has over 30 years of production pottery experience but his love for his craft continues after hours as well as he owns his own studio creating specialty high fired functional stoneware.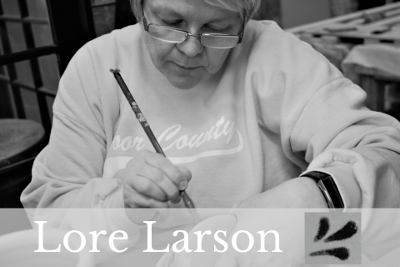 Lore Larson - Decorator
Lore remembers growing up knowing Rowe Pottery having grown up in Cambridge. Lore is our sole decorator here at Rowe and is completely self-taught! Before joining the Rowe Pottery Team, she began her decorating career with Rockdale Union Stoneware while also serving, bartending and cooking for local restaurants/bars. In 1995, Lore joined the Rowe Pottery Team where she gives much of her decorating skills credit to Cindy Meyers and Jody Wolf who taught her all she knows. Her favorite pieces to decorate are custom pieces -- houses, wedding invitations, one-of-a-kind pieces -- because it gives her a sense of creativity.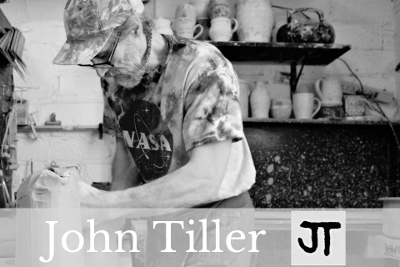 John Tiller - Potter
John Tiller grew up in Madison, Wisconsin, just a hop and a skip away from Cambridge. John found his love for pottery at an early age when he took a ceramics class in high school. The rest was history! Before joining the Rowe Pottery Team in 1997, John has worked for several other pottery studios making him an expert potter. He not only loves to throw "old time" pottery -- crocks, jugs, etc -- on the potters wheel but enjoys the historical reference that comes with each piece. John currently resides in Wisconsin's Driftless Region with his wife, Robyn, where he keeps honey bees, chickens and grows a big garden that specializes in shiitake mushrooms.

-->